Main content starts here, tab to start navigating
Menu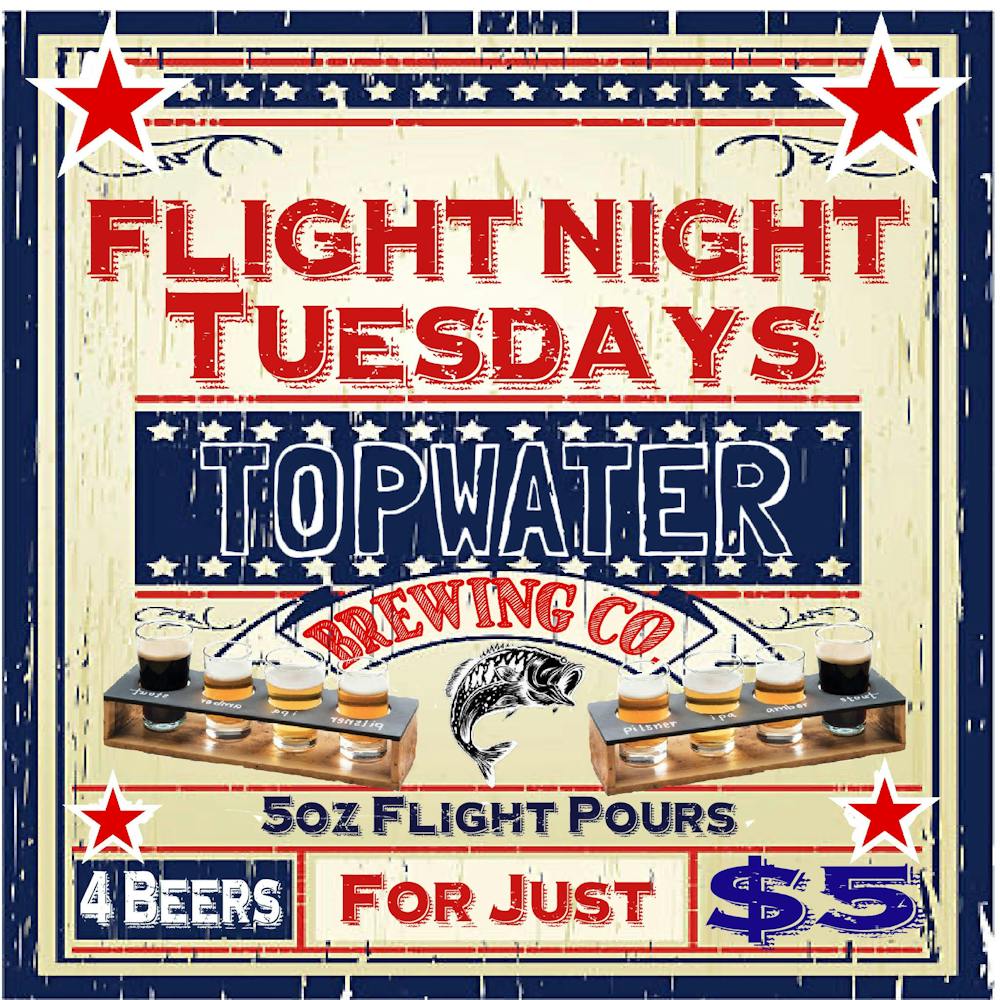 J
Topwater Lighthouse American Lager

WE DID IT!!! You will notice that ALL 12 of our Draft lines now Proudly pour Topwater Brewing Co. Liquids. To keep the masses happy, we introduce our Light, House, Lager crafted after a traditional Macro American Pilsner, but with a little more flavor so we can proudly call it our own.

4.2% ABV

Simple Life - NEIPA

Our flagship IPA - New England IPA that showcases generous hop additions of Citra Mosaic, and Simcoe which delivers a flavor experience of pineapple, mango, and lemon. Late hope additions add an uncompromising bitterness that complements the tropical fruit finish throughout.

6.8%ABV

Sour Bait: Guanabana Mango

We've baited our hooks with a new tongue slapper here! Sourbait, our new series of Imperial kettle sours kicks off with a combo sure to keep you wanting more, Guanabana(also called Soursop) and Mango combine to make almost a "Sunny D" kind of citrusy tartness leveled out with a hint of vanilla.

7%ABV

SourBait: Pineapple Passion Fruit

Our 2nd installment of the Sourbait Series introduces the Tropical punch of passion fruit and pineapple with a sour "warhead" style twist to get you to pucker up and savor the sweet notes almost reminiscent of a Mai Tai cocktail.

7% ABV

4 PACKS AVAILABLE!

Bank Runner Hefeweizen

Our take on the classic hefeweizen, nice crackery wheat beer with aromas of banana and clove and a clean sweet citrusy finish. Summer in a glass!

5.5%ABV
2 Mile Streak - Blood Orange DIPA

This Blood Orange Double IPA has the body of a New England but flavors of a mild west coast DIPA and a sweet finish of blood oranges infused with the heavy whirlpool hop additions.

8.5%ABV

4 PACKS AVAILABLE!

Coco Loco

Coconut flavors with the darker malts give a nice balance to the hefty body to our Robust Coconut Porter. Who said you cant have a liquid dessert!

7.5%ABV

4 PACKS AVAILABLE!

Cookie Cutter

This Brown Ale is light in body and was brewed with raisins and cinnamon to replicate grandma's oatmeal raisin cookies from our childhood. Perfect beer for the holiday season to enjoy with family and friends.

6%ABV

Ol' Lunker

This is the Prize Catch of the line up! Big, Bold & Beautiful pretty much descibe this Scotch Ale finished off with Bourbon soaked Oak Staves to add that sweet Bourbon heat to the nuttiness of the lightly roasted malts.

10.2%ABV

Nightcrawler

Classic oatmeal stout recipe, no adjuncts, just a traditional chocolaty, slightly nutty, black as night stout with a nice creamy mouthfeel and bittersweet dark chocolate & fig finish.

5.8%ABV

4 PACKS AVAILABLE!

Cabin in the Woods

We teamed up with Dover's own New Hampshire Coffee Roasters to give you decadent, rich, robust flavors of chocolate, coffee and a creamy sweet finish you would expect from a milk stout.

7.5%ABV

4 PACKS AVAILABLE!